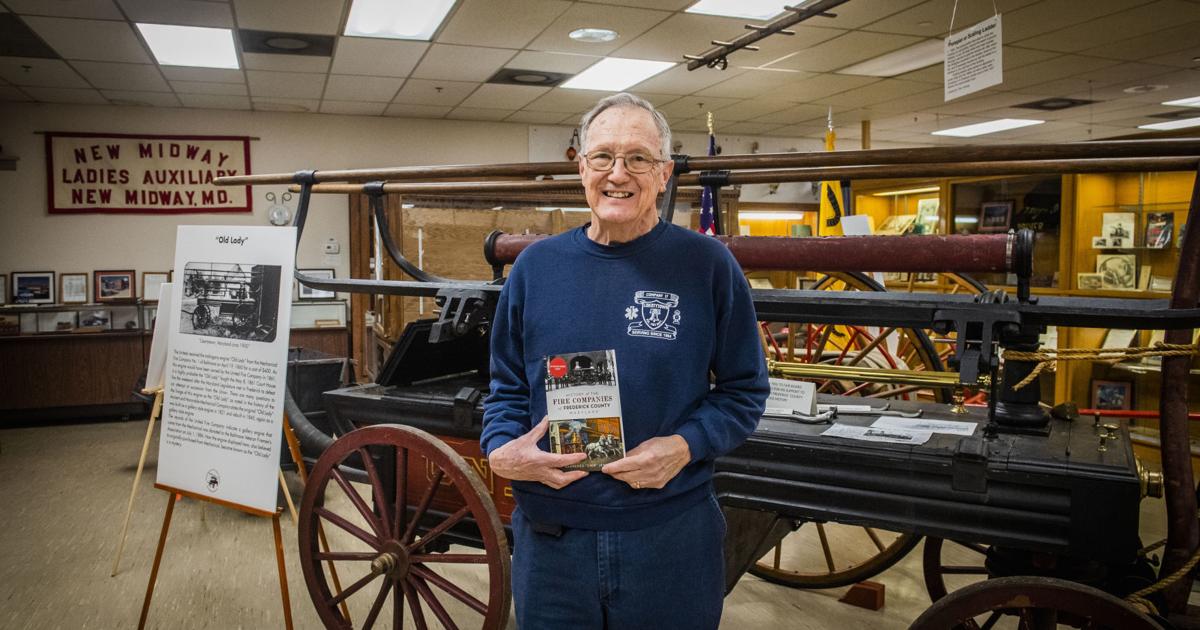 Author Tells the Story of Frederick County Fire and Rescue Services, Book Proceeds Benefit Museum | Story
In his third book, author Clarence "Chip" Jewell combines his experience in the fire and rescue services with a passion for fact finding in "History of the Fire Companies of Frederick County, Maryland".
Covering approximately 42,000 words over 140 pages and approximately 380 references, the book focuses on the beginnings of individual businesses within the context of the history of Frederick County as a whole.
The author describes the book as a labor of love, and 100 percent of its royalties go to the Frederick County Fire and Rescue Museum, of which Jewell is president.
Jewell retired in 2017 as the first County Director / Deputy Chief of the Division of Volunteer Fire and Rescue Services. He was also director of the emergency communication center. He is president and deputy chief of the Libertytown Volunteer Fire Department. He is also a life member of Junior Fire Co. When not busy giving back to the fire and rescue community, he writes monthly columns for the News-Post.
He is also the author of "Images of America: Firefighting in Frederick County" and co-author of "Firefighting in Frederick", with Warren Jenkins.
The following is an interview with the News-Post, edited for length and clarity.
What inspired you to write this book? Why did you want to start this project?
First of all, I like the history in general, especially the history of Frederick and in particular the history of the fire service. There has never been, to my knowledge, a true written history of the Frederick County Fire Department. There were other books [on individual fire companies], but there isn't a single book anyone can pick up and really get a good feel for the history of the Frederick County Fire Department.
How much time did you spend on the book, from idea to print?
In fact, I started it before COVID and was planning to dive much deeper into some of the real, real early fire companies like getting into city hall files and the like. Then COVID hit, so I had to change my thoughts a bit, but between the Maryland records, [Jacob] Engelbrecht's Diary, Reverend [Fred] Wenner, [pastor emeritus of the Evangelical Reformed United Church of Christ] … There is a lot of good material that I had personally, some books that I own, or online with the News-Post and Maryland Archives and some of the other online sources. I was really able to do a lot of this research, even during COVID.
Do you have a favorite chapter or set of favorite facts that you present in the book?
I really enjoyed doing the one about throwing water on the city clock [in Chapter 11], because it's such a unique activity that firefighters used to do to test their engines. And sometimes some fire companies would come from out of town to Frederick and throw water on the town clock to show off their engine.
What was the hardest part of writing the book?
Try to verify some information. Finding stuff in the Maryland Archives – sometimes it's a little difficult because it's so expensive, to find specific items. … The News-Post has a very extensive archive, so sometimes finding a certain thing in a newspaper article takes a little time. … I really hope to do more research as things get more and more normal, maybe I can go to Frederick's town hall eventually.
What do you hope people get out of the book?
A true appreciation of our county's history and, in particular, our county's fire and rescue history and a real appreciation for the fire department and how it has come to be engaged and the dedication of the members of our fire and rescue service today. … Today's fire department is truly built on commitment, dedication and tradition.
I hope the book shows all of these things.
The Citizens Truck Company, for example, when they first organized themselves to get the ladder truck they wanted, they paid $ 1,500 out of members' pockets … because the city didn't authorized only a limited amount of money. You know, it's dedication.
Follow Mary Grace Keller on Twitter: @MaryGraceKeller