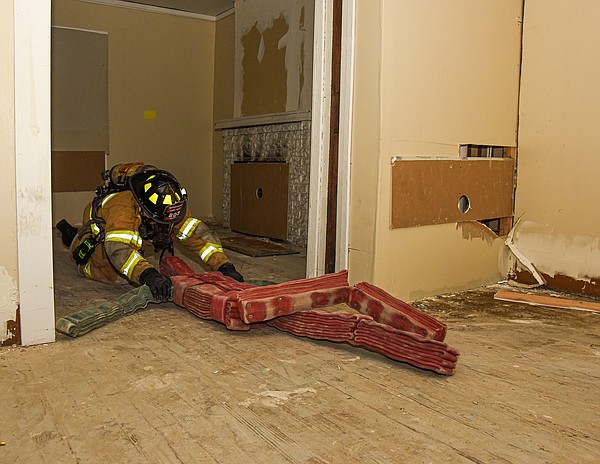 Extreme heat adds an extra layer of difficulty to fire rescue training
Imagine having to carry around 75 pounds of extra weight and the temperature outside is 90 degrees or more.
This week, City of Jefferson Fire Department personnel practiced rescuing victims of a burning house. Captain Ryan Carrender said they were grateful to be able to use a house the city had acquired in the 400 block of Lafayette Street.
"We're focusing on the basics because we have several new players, and it's good for the veterans to keep up to date with the right techniques," Carrender said.
During a drill, a small group of firefighters entered the house and pulled out two training dummies. Doing drills like this allows crews to acclimate to the heat they would face, Carrender added.
"Our cargo hold gear is great at keeping the heat out, but it's also great at keeping the heat in that we generate," Carrender said.
Firefighters move in and out of the rotating structure. They go to a place designated on the site as a recovery center.
Temperatures during a structural fire can reach up to 1,200 degrees at the ceiling and 200 to 300 degrees at floor level.
"With our cargo gear and air packs, and depending on how much extra gear we need to bring with us, our excess weight could increase by up to a few hundred pounds," Carrender said. "We could carry equipment, such as a thermal camera or tools to force open a door, while being on the lookout for potential victims."
If it was a large structure fire, Carrender said, they would call in more staff and that would help turn more staff around.
"We need to give them time to cool down on a hot day to avoid heat exhaustion," Carreder said.
While there may be times when it looks like fire crews aren't responding to many calls for service, Carrender said, people shouldn't think they're not busy.
"There are a lot of things that go into our days like this training and the maintenance and cleaning of equipment," Carrender said. "We are always busy with something."