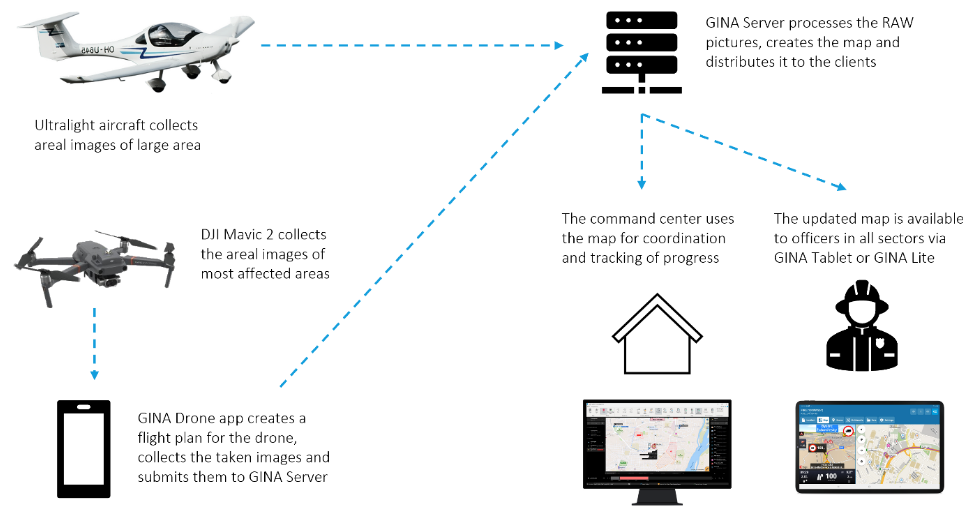 Firefighters use drones and DJI software to deliver essential disaster relief – sUAS News
By Matt Bailey
Just over a month ago, on June 24, 2021, residents of the densely populated South Moravian region of the Czech Republic saw their lives uprooted. They were struck by an uncommon natural disaster of this magnitude in Europe, a tornado with winds of at least 219 km / h (136 mph).
The devastation it caused left thousands of homes damaged and, in some cases, destroyed entire neighborhoods of the city. He overturned cars, lifted them up and threw them into trees that had managed to stay in place. This created an unimaginable apocalyptic scene in an area known for its wine production and unique culture.
When the incident was first reported at 7:23 p.m., firefighters were immediately dispatched, and from that point on, thousands of professionals and volunteers were on hand to take care of an area of wreckage of about 26 square kilometers (10 square miles), the equivalent of more than 4,800 football fields. In total, 2,000 professional firefighters from all over the Czech Republic and about the same number of volunteer firefighters, as well as many locals and helpers, took turns doing all they could in the affected area. The Czech Republic's fire and rescue services deployed around 550 pieces of equipment to the scene.
It was also the very first time that the Czech fire service combined DJI drone technology with GINA aerial mapping software.
We asked Colonel David Jirous, head of the KOPIS (Operational and Information Center) of South Moravia, to tell us more …
-Can you describe the scene in your own words?
"It was something unimaginable because tornadoes are very rare in our region. Houses were destroyed, trees uprooted and debris was left everywhere. "
"In the first phase it was very difficult, there was a lack of strength and resources, but above all, we had very little idea of ​​the size of the affected area. Therefore, drones were then used to map the terrain and create a real-time digital map of the devastated area.
-What time did you start using the drone and the mapping software?
"The DJI Mavic 2 Enterprise DUAL took off shortly after dawn the next day, when the lighting conditions allowed us to take pictures of the devastated landscape."
– How long have you been using drone technology and GINA software?
"The fire departments of the South Moravian region have been using GINA technology since 2012 and drones since 2018."
-What advantages do drone technology and GINA software offer you that you would not normally have access to?
"Through the use of drones, we almost immediately have an aerial perspective and a digital map of the affected area which is distributed to the GINA app. Firefighters on the ground and the local command center access it for an accurate picture. scene and location tracking. We had an up-to-date overview of the affected area, the extent of the damage, and the force and resource requirements. Thanks to technology, we can respond flexibly to situations changing in the field.
"In general, GINA significantly improves the efficiency of routine and special operations, reduces arrival time, provides real-time information support and increases the level of cooperation between all units involved."
-If you weren't using aerial technology and GINA software, how long would it typically take you to map an area of ​​this size and how would you do it?
"Considering the size of the affected area (over 26 km), which includes isolated areas that are difficult to reach, it would take a long time to map by purely ground means. We are talking about days rather than hours that it actually took. If we weren't using drones, we would have to rely on reports from people in the area where they were working.
– Is there any additional information you would like to give?
"With the experience we have gained in mapping tornado damaged areas, we want to apply this knowledge to the project we are currently working on, which focuses on automatic mapping of the marked area in SIG or in GINA Tablet. A unique feature of this project will be the time it takes for the digital map to reach first responders on the ground. We would like to distribute the data from the drone to GINA applications in near real time using a fast mobile connection such as 5G and LTE networks, or over a local network.
For more information or interview requests, please email [email protected]