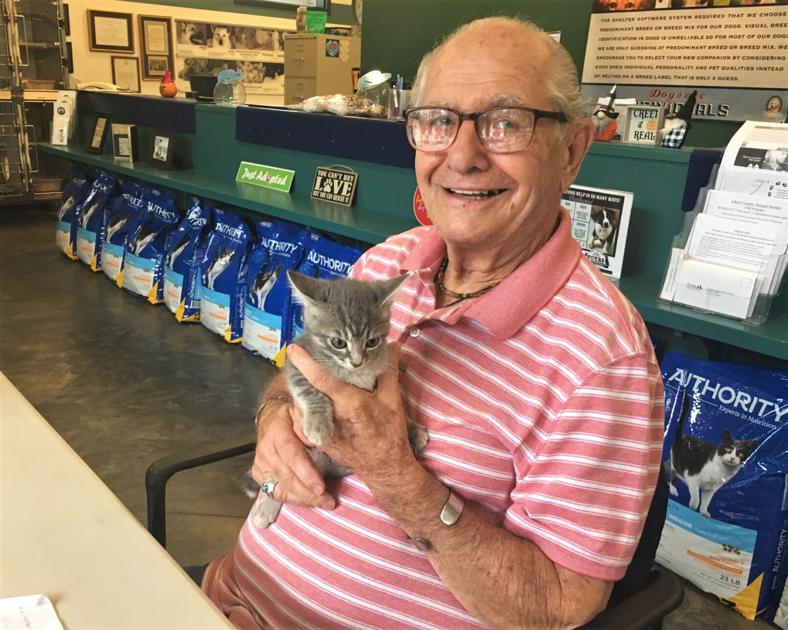 FOTAS: Male FOTAS volunteers impact shelter pets | Characteristics
They come from different backgrounds. The time they have to donate varies according to age and circumstances. What they share is the euphoria of animal rescue. These are the men of FOTAS.
Ahmed Samaha grew up in Key West, Florida, and has spent the past 27 years as an academic administrator at USC Aiken. First director of intramural sports, he is currently vice-chancellor of student engagement and inclusion. Ahmed and his wife Kathy made volunteering part of busy work and family schedules by walking dogs at the Aiken County Animal Shelter on Saturday mornings.
Ahmed takes larger, stronger dogs or those with limited prospects because they are afraid of humans. He remembers the exuberant ball games in the playgrounds with dogs that initially curled up in their kennels when a man approached.
"I can't wait to go to the shelter to see who has been adopted," he said. "What I do at the shelter is a great stress reliever for me."
Don Horne's love for animals was nurtured on his family's farm in Concord, New Hampshire. He made his career as a purchasing manager in the electronics industry. After moving to Aiken in 2010, he volunteered with several different organizations, but calls his work at the Aiken County Animal Shelter "the best job I have ever had".
Sit with him at the reception for a few minutes and it's easy to see why. This 85-year-old man is in the thick of it. He helps a distressed pet owner find an elderly dog ​​who has strayed. Moments later, a mother and son arrive to choose the boy's first pet. Host families arrive with dogs on leashes and cats in cages for the free medical care provided to pets. Two roommates adopt a kitten. A jubilant dog finds his master. Smiles are everywhere.
"There is a real need here," Don said. "You are never too old to give back. I am happy to do this.
Vince Verrecchio is a newcomer to Aiken. Renowned writer and photographer, he moved south after selling his advertising agency in Minnesota. Vince deploys his professional skills to market the residents of the shelters to potential adopters.
He remembers Flounder, a longtime resident of the shelter who was a favorite of staff and volunteers, but repeatedly overlooked by prospective adoptive parents. Flounder's photos of Vince touched hearts and resulted in the Eternal Home that had so long eluded this sweet boy.
"I want to capture the soul of every animal I photograph," Vince said. And with the help of volunteer Chuck Cooper who positions and holds the animals, he does it.
"We need more men of all ages, races and ethnicities to volunteer," said Frank Townsend, City Manager of SouthState Bank and Volunteer Treasurer of FOTAS. "Only by exposing abandoned, mistreated and frightened animals to the diversity of goodness that exists in our community will they become adoptable into all kinds of families who might love them.
Please email [email protected] to volunteer.
Their life is in our hands.