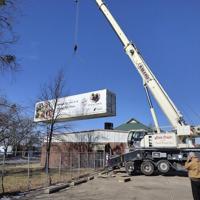 Gospel Rescue Mission Launches Vegetable Growing Program | Lifestyles
Gospel Rescue Mission strives to sell fresh vegetables year-round and help people get a fresh start.
"Fresh Start doesn't just include our vegetables, it includes a fresh start for many of our neighbors who are struggling to find jobs because they have crimes, addiction, bad work history," said Rich Schaus. , director of the Gospel Rescue Mission. "They now have a place to work for minimum wage or better."
GRM recently purchased a container of hydroponics, or Greenery, products from agricultural technology company Freight Farms. Hydroponics are grown with an aqueous solvent and without soil.
The container, the size of a tractor-trailer, arrived on Monday.
Schaus said the mission will start growing the vegetables as soon as the container growing units are in place. GRM will do a ribbon cutting when the first crop is ready to be sold.
"Once we get started, it will take three to six weeks," he said. "Every four to six weeks we will be able to grow crops."
Products will be sold in small, medium or large bags, Schaus said. Prices have not yet been set.
With every bag a person purchases, GRM will match by donating a bag to those in need living in the neighborhood, Schaus said.
"You can buy a bag of vegetables or spinach, whatever the month's offer," he said. "You buy a small bag, a small bag is theirs. You buy a medium bag, a medium bag is theirs."
Initially, Fresh Start will focus on lettuce or other green vegetables, Schaus said.
"We're going to work towards what people would like to have," he said, adding that production could be available any time of the year.
Fresh Start manager Josh Baird said he can control Greenery's temperature, water level and light via a computer.
"Everything the plant needs is carried by water," Baird said. "It uses UV light. The temperature is controlled, the amount of water is controlled, the amount of light we use each day. It's all self-contained."
He said the container nursery can hold up to 4,600 plants before they are transplanted into the growing area, which can hold 8,800 plants, depending on what is being grown. The plants are grown on supports that go from floor to ceiling. He said the container should use no more than five gallons of water each day.
"In 320 square feet of space, you can grow two and a half acres of produce," he said. "Two to four tons per year."
Schaus said GRM considered setting up greenhouses for customers, but there was so much damage to the property. He said GRM heard about Freight Farms while researching other options. The initial cost to set up the container was $150,000, he said, adding that GRM is seeking donations to maintain the Greenery in its first year.
Mission guests who have completed the job training program can work at Fresh Start for above minimum wage. He said there will be four or five workers once the Greenery is fully operational.