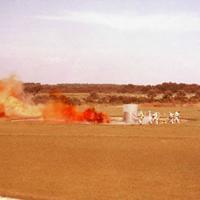 Hawkins County resident remembers being part of astronaut rescue team | Appalachian Highlands
CHURCH HILL – Bill Killen, 82, has always had a fascination with fire engines and firefighting, but he never thought it would lead him to a 67-year career in the fire service, including time at Kennedy Space Center.
Killen grew up in Potomac Heights, Maryland where his love of firefighting began. He joined the Potomac Heights Volunteer Fire Department in March 1956.
"I have been to many fires, motor vehicle accidents, drownings, automobile wrecks, with the Potomac Heights Volunteer Fire Department, and in the summer of 1956 received my very first award," Killen said.
In 1960, Killen was hired as a trainee firefighter at the Naval Propellant Plant in Indian Head, Maryland.
Killen received extensive Navy training to work as a civilian firefighter, and over the next five years saw himself in several explosive-related fires.
Then, in May 1965, Killen received a job opportunity that provided him with unique experiences.
While visiting his family in Florida, Killen met an old friend who was one of the main engineers in charge of construction at Kennedy Space Center.
"So I drove about an hour to the Space Center, walked in and sat down with the fire chief and talked for about 15 to 20 minutes," Killen said. "Then he opened his drawer and pulled out some paper and wrote July 19 and handed me an application and on the spot. During that 20 minute period, he decided to hire me on the spot, and I was really surprised.
Killen was hired during the construction of the Space Center, which was 50% complete when he joined. Additionally, as a member of the Kennedy Space Center Fire Department, Killen participated in the mobile transporter emergency fire protection, which carried the rocket to the launch pad.
"There were many opportunities to interact with the astronauts, especially when they were preparing for a mission, as they had to undergo firefighting training just as much as the rest of the Kennedy workforce. Space Center," Killen said.
During this period, Killen observed many Gemini missions.
Rescue team training
On January 27, 1967, tragedy struck the Kennedy Space Center when the Apollo 1 mission, launched at Cape Kennedy, was aborted due to a fire that killed three astronauts.
"I was on duty when it happened and I also knew Gus Grissom," Killen said. "I went fishing with him."
A big change that took place after the fire was to reconfigure the hatch. Apollo 1's hatch had 16 independent locking mechanisms and to remove the hatch each had to be done individually.
Another change that occurred after the failed Apollo 1 mission was the formation of the Astronaut Rescue Team in 1968.
Out of 120 volunteers, nine members of the Kennedy Space Center Fire Department were selected as members of the astronaut rescue team, including Killen.
The Saturn V rocket's explosion danger zone was 7,000 feet, and the astronaut rescue team was stationed at about 1,500 to 1,600 feet in M1-13s or armored personnel carriers with four Department of Defense doctors.
"The interesting thing that I remember about the Apollo 8 mission, besides the excitement of being close to the rocket, was the fact that the vibration was so strong that the armored personnel carrier literally bounced and moved. about two feet," Killen said.
Three members of the rescue team acted as drivers and the other six members rescued the astronauts. Each member of the team has been trained to be able to do any job.
The team practiced to remove all three astronauts in one minute.
"It was exciting to be [directly] involved in the man-to-moon mission," Killen said. "I had a lot of fun with it. I really enjoyed that."
In addition to working as a member of the Astronaut Rescue Team, Killen acted as an astronaut escort for several missions. This involved having a rescuer stay with the astronaut until he reached the launch pad, a suggestion made by Killen.
"During the process, I suggested to the fire chief that since the astronauts needed an escort from the suit room to the van, why don't we stay with them to the launch pad if they need that kind of coverage," Killen said. "As a result of that, I got a $10 suggestion reward, and that was a really nice reward in 1972."
Killen served as an escort for the Apollo 11 mission and said he loved being a part of such a historic moment.
"I am very proud to know that I had the opportunity to be part of a very important historical event that very few people have the opportunity to do," said Killen. "There were so many people who all deserved and deserve recognition and respect for their contributions to achieving this goal."
Killen said his favorite thing about the astronaut rescue team was learning about the different components of the rocket.
While at Kennedy Space Center, Killen met several well-known people, including Neil Armstrong, Jimmy Stewart, Jules Bergman, President Lyndon Johnson, Vice President Hubert Humphrey, President Richard Nixon, Vice President Spiro Agnew, and Senator Ted Kennedy.
"I enjoyed being part of the astronaut rescue team," Killen said. "Yeah, there's the exhibit, and I've had several aunts call me up and say, 'Hey, I saw you on TV with the astronauts.' So it was a nice part of the duty, but I liked being part of the rescue team because we knew we had a very difficult and serious mission, and we were ready to do it and ready to carry it out So, I'm really proud to have had the opportunity to be part of this team.
During Killen's time at the space center, there were 45 men who served on the astronaut rescue team.
In the summer of 1974, Killen left the space center after being fired.
"I decided to leave Kennedy Space Center about four months before I left," Killen said. "With the launch of Skylab Three crew in February 1974, the Astronaut Rescue Team mission was complete. It was the last manned mission NASA had planned. So I was let go as as a first aider and I went to driver operator and I was driver operator on paper for two days and then I was downgraded to firefighter so they laid off that many people.
In September 1974, Killen became the fire chief for the Lake Barton Fire Control District in Orange County.
In 2019, Killen published "The Story of the Apollo and Skylab Astronaut Rescue Team".
Although being a member of the astronaut rescue team was a significant moment in Killen's firefighting career, it was not the end of his journey. Killen continued his substantial career in the fire service working with the United States Navy.