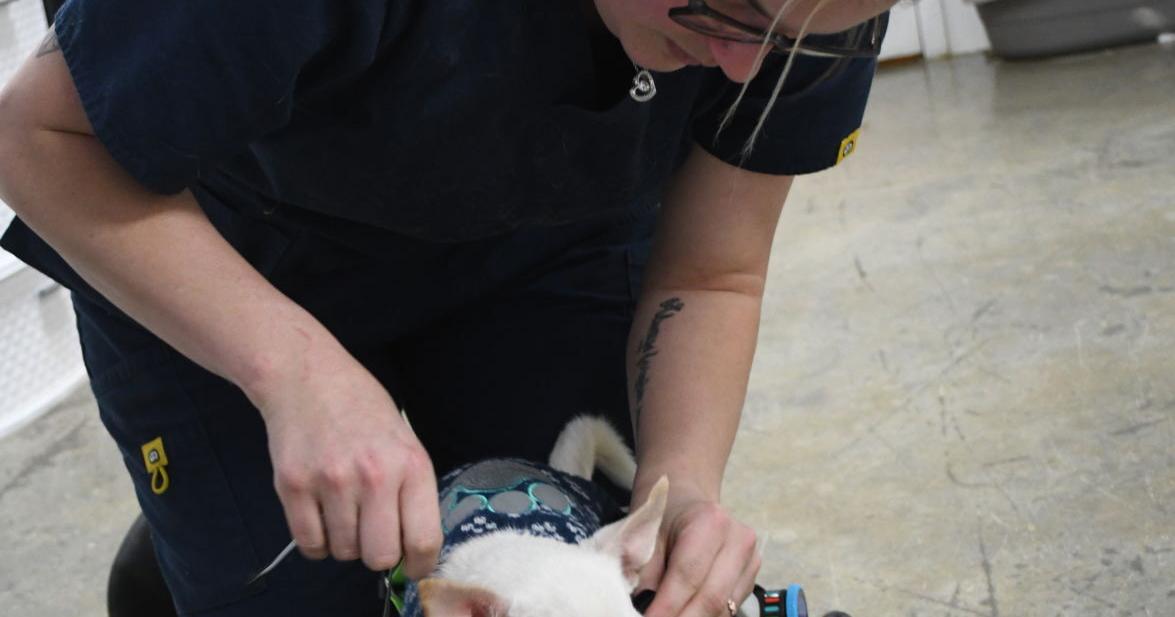 HC animal shelter reunites Dawson's pets with their owners | Dawson Springs Progress
After the tornadoes hit Dawson Springs, while everyone helped rescue and clean up, the Hopkins County Animal Shelter rescued pets in the area.
Animal shelter executive director Dustin Potenza said once the gravity of the situation in Dawson City settled in, the shelter contacted rescue partners to free up space in the shelter.
"The shelter at that time was completely full, and we knew we would have moved animals, and we needed a space for these animals," he said.
The shelter was able to transport around 60 dogs and as many cats to the Kentucky Humane Society in Louisville to make room for animals coming from Dawson.
"We had a team in Dawson City starting on Saturday, December 11, and we had one every day to find animals," Potenza said.
People found animals and brought them to the shelter team at the Dawson Command Center, and volunteers brought lost animals directly to the shelter.
He said that from Dec. 11 through Tuesday, the shelter hosted around 90 dogs and around 120 cats from Dawson.
All animals found in Dawson are kept for at least 30 days to allow the owner to come forward and retrieve them.
Potenza said if the owner didn't come forward by day 30, the shelter would post the animal's photo in a last ditch effort to find the owner. If no owner is found, the shelter will place the animal for public adoption five days after the animal's 30th day in the shelter.
If an owner's home is damaged or lost completely, the shelter will accommodate pets at the facility. The owner will come on site and sign a 15-day contract.
"As long as the owner stays in contact with us and renews this 15 day contract, we will keep these animals for as long as we need them," said Potenza.
Although the shelter has hosted many dogs and cats from Dawson, many of them have been claimed. He said there were around 36 dogs left to claim and around 50 cats.
"We recorded a reunion rate of around 55% between pets and their families," said Potenza.
The shelter is still receiving animals from Dawson, even two and a half weeks later. He said they haven't had dogs since before Christmas and most of the animals they have now are cats.
"The hardest part for us is that there are stray cats that just don't have an owner, so when we host these cats, are they stray or are they pets," he said. declared Potenza.
Of the nearly 200 animals rescued from Dawson Springs, only two animals had microchips. He said that for these two animals, the shelter was able to call their owners and within an hour the animals were collected.
For other rescued pets, shelter volunteers should show photos and talk to neighbors in the area where the animals were found to determine who is the owner. Microchips bring pets and owners together much faster.
He said the shelter frequently holds microchip clinics for the community and the cost is only $ 10.
Getting dogs and their owners together is a bit easier as dogs tend to wear collars and ID tags. For cats and dogs that don't wear collars, the shelter looks for specific markings like where a cat is declawed or if surgery has been performed on the animal, even where the animal was found. .
"It's really just trying to put together as much information as possible to make sure we're doing things right," Potenza said.
He said to recover a pet, an owner must show proof of ownership through veterinary records or photos on their phone or Facebook.
"At a time like this where some have lost everything, we still need to make sure we have that proof to make sure we return the animals to their rightful owners," said Potenza. "It's the only fair way for us to do it. "
The Hopkins County Humane Society is posting photos of the rescued animals on its Facebook page for anyone still searching for their pets. Inquiries can also be made by calling the shelter at 270-821-8965.
He said the shelter is also keeping track of missing animals and animals found that may not be at the shelter.
"There are a lot of families who have found animals that choose to keep them in their own homes," Potenza said. "We're trying to keep track of that and record that."
The refuge is open by appointment only from 9 a.m. to noon and allows walk-in visits from 1 p.m. to 4:30 p.m., Monday to Saturday. The refuge is located at 2210 Laffoon Trail in Madisonville.