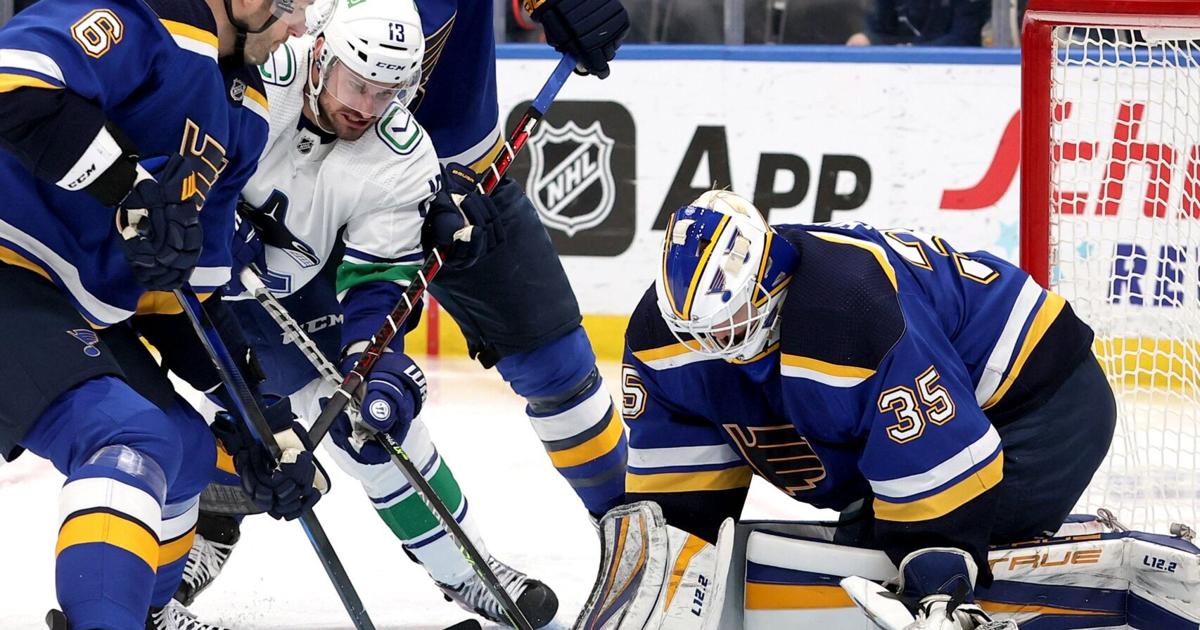 Husso to the rescue as Blues beat Canucks 4-1 | St. Louis Blues
The Blues were looking for a game to try to get them out of the March quagmire they found themselves in.
The same goes for their number 1 keeper.
The two took a few steps Monday night, as Husso stopped 35 of 36 shots he faced in a 4-1 win over the Canucks at Enterprise Center. It was an important victory for the Blues, who had lost five of their previous six games, as well as for Husso, who was 3-3-2 in March, including allowing five goals in two of his three games previous ones, including Saturday's 7-2 loss to Carolina.
Monday was the Husso the Blues saw earlier in the season.
"It's a force there," defender Marco Scandella said. "He makes these big saves."
"It was nice to get a win after that Carolina game," Husso said. "It wasn't good enough from me and it was a good rebound."
The Blues still have a lot to bounce back from. In the constant state of flux in which the Central Division finds itself, the victory moved the Blues back to third place, one point ahead of Nashville, who played one game more than the Blues. But by the time the Blues return to action against the Canucks in a return game in Vancouver on Wednesday, they could be fourth again. That's the nature of the division at this point.
Vladimir Tarasenko scored twice, his goal in an empty net with 2:13 remaining giving him 500 career points. Scandella and David Perron scored the goals that gave the Blues a rare 2-0 lead that was instrumental in the win. It was not a masterpiece. Vancouver had 17 shots on goal in the second period, and it was only Husso who kept them out of trouble. But no matter how the Blues play, they're at a point where every win matters.
The loss to Carolina wasn't as ugly as the 7-2 scoreline indicated thanks to three goals in the final five minutes, but Husso took some of the blame for the team that fell behind 4- 2. Once among the league leaders in goals-against average and save percentage, Husso is falling back into the pack, although he is still more successful than his counterpart Jordan Binnington.
"A few soft goals (against Carolina) and I didn't make those saves when I usually have to," Husso said. "But it was good to start right away today and it wasn't easy after a game like that. But my spirit was good today and I skated well in the morning, so I was ready to go.
Husso had been in goal for a 3-1 win at Vancouver in January, so coach Craig Berube didn't hesitate to put it back after the game against Carolina, which suited Husso just fine.
Husso underlined the moment. Since the game started at 6:30 a.m. rather than 7 a.m., the Blues had their morning practice at 9:30 a.m. rather than 10:30 a.m.
"I wanted to be specific right away," Husso said. "And that's something I have to do every morning."
The second period could have been the turning point, but Husso kept the Blues on track.
"He was good the whole game, but in the second we weren't very good," Berube said. "They had their power play at first but then it kind of continued where we didn't get the puck out, we didn't get the puck out and then when we did we did a puck game that wasn't It was very good and then they came back to us so we played a bit of that style where we didn't have enough out of bounds time in the second period and Husso was really good .
From Husso's perspective, it wasn't as difficult as it seemed.
"I felt like we defended the midfield well," he said, "and the shots were coming from the points, like there was nothing crazy. So it wasn't so tough for me either…. Made some good saves in the second half and kept it 2-0, then we scored straight away in the third and that was pretty much the end of the game.
The Blues played forward for a rare time in March. Scandella scored the opening goal on a shot from Tarasenko which hit a defender's stick and then goalkeeper Jaroslav Halak's arm and was about to bounce off the net until it hit Halak's stick, came back and bounced off Scandella standing on the goal line and entering Having conceded the first goal in the previous five games, the Blues will take it.
"I kind of put my whole body in front," said Scandella, whose only other goal this season was an empty net. "I saw it in the air and I was pushed from behind. So I was in a good position to push it. I'm not sure (where it hit).
"It's always important (to take the lead)," Berube said. "If you score first in the game, you have a good feeling, you feed on it. It was good to have that 2-0 lead. After killing that penalty in the second, I wish we had gone a bit more the other way than we did.
Perron finished a two-on-one with Ivan Barbashev to make it 2-0 in the first period, then Tarasenko scored the first of his two goals, 49 seconds into the third period, scoring his own rebound to carry the score at 3-0. . His empty-net goal earned him 23 goals this season, tying him with Perron for the team lead.
"I feel like (the header) gave the team confidence," Scandella said. "So I was lucky to be the one who put that one on. But I felt like we were strong. We had a good third period last game. It didn't go our way one bit in the last two games before that. So that was a great response from us.