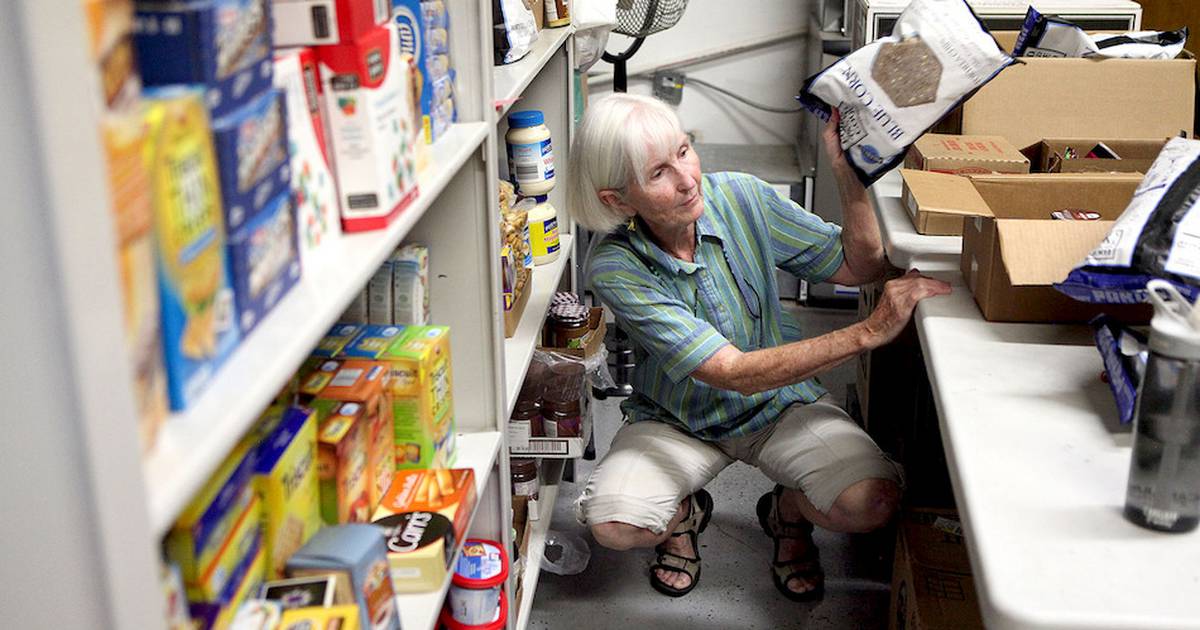 Kane awards $2 million in US bailout grants to local charities – Shaw Local
GENEVA – Kane County Council has approved $2 million in community support grants for 40 charities, including behavioral or mental health agencies, homeless shelters and food pantries, through the American Rescue Plan Act, enacted by Congress to provide financial support to local economies.
Shari Frieders, executive director of Between Friends Food Pantry of Sugar Grove, said awarding an $8,479 grant to Kane County would help with their record keeping and practical assistance.
"It means we can start putting better systems in place for check-ins," Frieders said. "We have Excel spreadsheets for customer visits. Feeding America has a different system. The system is free, but I need an iPad to enter information and generate reports. »
Food pantries should keep essential records of who uses the pantries because it defines need and can help the agency qualify for other grants, Frieders said.
The Northern Illinois Food Bank in Geneva, part of Feeding America, can turn a $1 donation into $8 worth of food — but that doesn't cover all needs, she said.
"We can use that money for a lot of things the food bank doesn't provide — like diapers, personal hygiene items," Frieders said. "We offer everything from cough syrup to acetaminophen, shampoo, conditioners, soap, household cleaners and paper towels. The money will come in handy, that's for sure.
Stephanie Weber, executive director of suicide prevention services at Batavia, said the $51,254 grant was welcome.
"We lost two therapists and that will give us one and a half therapists," Weber said. "Our school contracts are increasing and our workloads are off charges. We don't officially have a waiting list, but we're juggling.
Grant amounts ranged from $4,000 to $200,000 and recipients can use the money to reimburse eligible expenses incurred between March 2021 and March 2024, Kane County officials announced in a news release.
Last month, the county council approved bailout grants of $333,333 each, for six local nonprofits to help meet the immediate demand for services and staffing shortages caused by the pandemic.
Kane County Board Chair Corinne Pierog said in the statement that the board "builds on the investments we made in our nonprofit community earlier this year with another direct distribution pandemic relief fund".
"We hope the grants will begin to ease the financial pressure that so many of our safety net providers have suffered through no fault of their own," Pierog said in the statement.
Some other grant recipients and their missions are:
• The KDK National Alliance on Mental Illness received $68,650. The mission of NAMI Kane-South, DeKalb and Kendall Counties is to provide support, education and advocacy to individuals, family members and communities struggling with mental health issues.
• The Geneva-based Changing Children's Worlds Foundation received $30,386. Its mission is that every child and adolescent is supported in their positive development by caregivers and professionals within loving, non-violent families and peaceful communities.
• The Elgin Community Crisis Center received $108,781. Its mission is to provide safety, hope, advocacy, respite and education to people affected by crisis and violence.
• The Batavia Seniors Center received $41,784. Its mission is to provide a comprehensive program of socialization, recreation, and maintenance of adult memory health.
• The Joshua Tree community received $21,958. Its mission is to serve non-aggressive mentally disabled adults over the age of 22 in a day program.
• Hesed House in Aurora received $261,921. It is the second largest homeless shelter in the state, but it also offers programs to help its clients overcome homelessness.
• Lazarus House, based in St. Charles, received $188,326. Lazarus House is a homeless shelter that provides food and other forms of assistance to its clients.
• The Kaneland Foundation received $16,000. Its mission is to meet the educational needs of students in Kaneland District 302.
• Northern Illinois Food Bank, based in Geneva, received $68,430. The food bank provides 250,000 meals a day to 900 food pantries, soup kitchens, shelters and youth and senior feeding programs in 13 counties.
• Batavia Interfaith Food Pantry & Clothes Closet received $8,438. It serves the residents of Batavia or Batavia Township with food and clothing.
• FISH Pantry received $17,273. The pantry's mission is to provide a five to 10 day food supply to families in need in the communities of Carpentersville, East and West Dundee, Sleepy Hollow and Gilberts.
A complete list of ARPA grant recipients is available online at www.countyofkane.org.