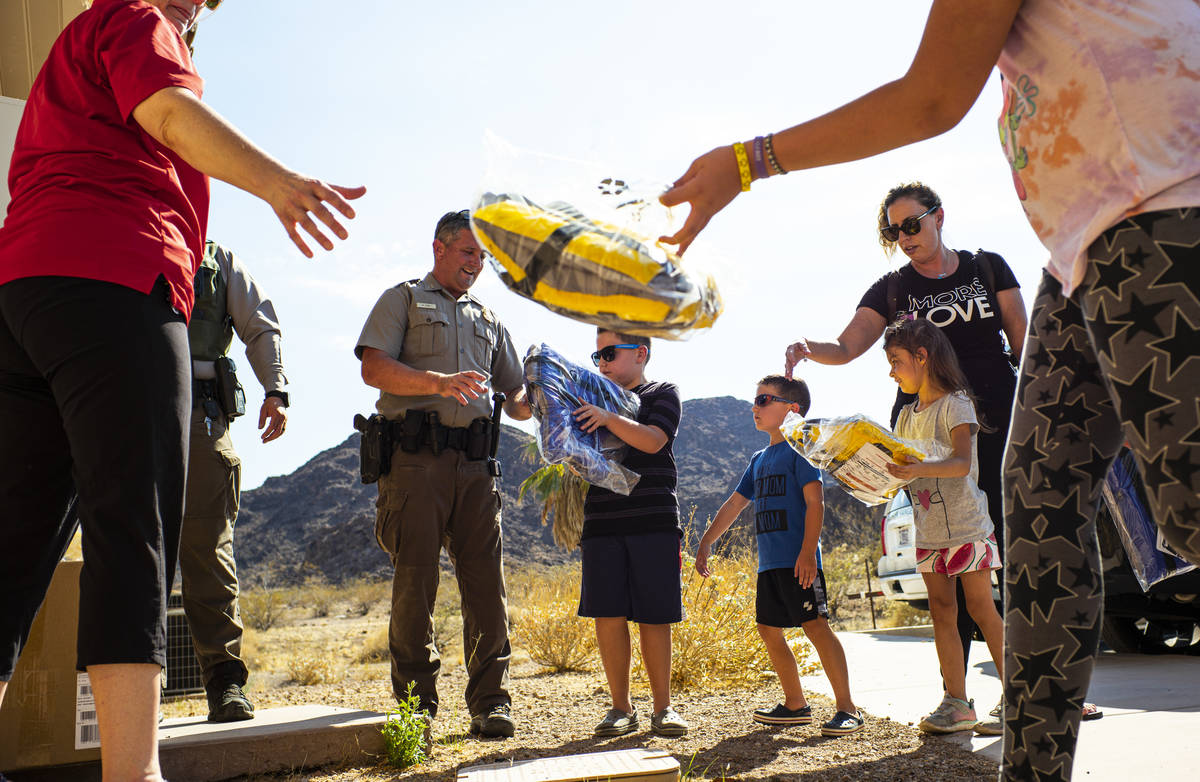 Las Vegas Facebook groups donate 335 life jackets to Lake Mead
Directors of two Las Vegas Facebook groups on Wednesday donated more than 300 life jackets to the Lake Mead National Recreation Area in honor of a 6-year-old girl who drowned there in May.
Dusty Feazell and Guy Cohen, directors of the Las Vegas Fishing Club and Lake Mead Family Boaters Uncensored, respectively, announced on their pages on May 4 that they would raise funds to remember Stacey Mock.
Stacey was pronounced dead on May 1 after divers from the Metropolitan Police Department retrieved her body from the lake. The Nevada Department of Wildlife said she was sharing a pool float with another child when high winds blew them off the shore, causing them to drift into deeper water. The game wardens were able to rescue the second child.
National Weather Service meteorologist John Adair said wind gusts reached 30 mph that day.
"I just want to say thank you very much from me, my family and my friends," Mock's mother Ashley Mock said on Wednesday. "I really appreciate that you all see the big picture. I just want to thank you for everything.
Ashley Mock walked into the Boulder Beach ranger station on Wednesday afternoon to see 335 life jackets filling almost an entire wall. Some piles of red, blue and yellow life jackets were so high that they fell and toppled to the ground. Mock's sister, Victoria Mock-Crockhom, hugged everyone in the room, including the park wardens, Feazell, Cohen and their families.
"Seeing the little girl die really touched us," Cohen said. "We want to raise awareness that every child should wear a life jacket in the water. "
As Cohen spoke, two large floats bounced in the water a few feet from shore. Cohen pointed at them, saying they made him very worried.
"With the power of the winds here and the way the waves change, it's crucial to make sure you always think of Mother Nature," Feazell said. "She's changing quickly.
Both Feazell and Cohen said that even though their sons were good swimmers, they would still require them to wear life jackets when out on the water.
Gregory Hauburger, a spokesperson for Lake Mead, said about 90,000 visitors are expected this weekend, which makes the donation of life jackets a great benefit for beach supply.
"We have drownings every year here," Hauburger said. "We are very happy that some of our community groups are donating through Get Outdoors Nevada to help keep people safe. "
The life jackets were donated from the $ 5,400 Feazell and Cohen raised. The men turned to the Marine Center in Las Vegas to purchase the products, then said they worked with Get Outdoors Nevada to donate them to the lake.
Contact Sabrina Schnur at [email protected] or 702-383-0278. To pursue @sabrina_schnur on Twitter.