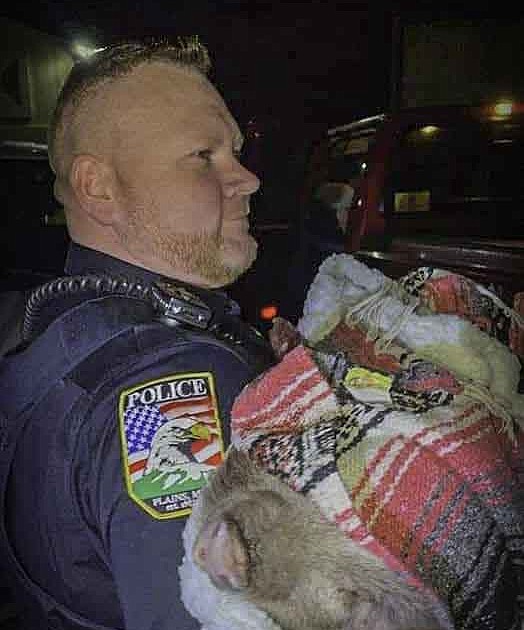 Locals rally to rescue a lost and injured pig
Local residents came together last week to rescue an injured Kunekune pig along Montana 28 near Hot Springs.
On her way home from Kalispell, Megan Beason noticed a small animal on the roadway. To his surprise, it was an injured pig.
Beason pulled off the road and began what was to be the young pig's first rescue attempt.
Trying to chase an injured pig along the road wasn't as easy as she thought. After numerous attempts to capture it, she feared that she and the pig would be hit by passing vehicles. Beason gave up and called for help. That's when the local community came to the rescue.
The young pig was eventually rounded up by Plains Police Department officer Mariah Smith, Gracie Claridge and Jared Hutchens and taken to the Plains EMT Center where Lyla Lammert, an EMT-in-training, was asked to put on her new skills to use. After bandaging a large gash on the pig's neck, Lammert was able to take the pig — whom rescuers began calling Wilbur — to the Thompson Falls Veterinary Clinic.
Dr. Stephanie McIntyre cleaned and sutured the wound. It was then that Dr. McIntyre informed everyone that the pig was not a Wilbur, but a Mrs. Wilburina.
A Go Fund Me page was set up to pay for Wilburina's care and quickly achieved the goal of paying for most of the expenses Lammert incurred.
Wilburina is now recovering at Lammert's.
Community help continued with Plains resident Crystal Tribetino donating a bag of food. Lammert said she bonded with Ms Wilburina, but was still open to the idea of ​​adopting her to someone who would raise her as a pet.
"She's been through enough to have the right to live," Lammert said.
If anyone wants to help, Lammert needs straw for the pig pen and more pig food. Contact Clark Fork Valley Press at 406-826-3402.