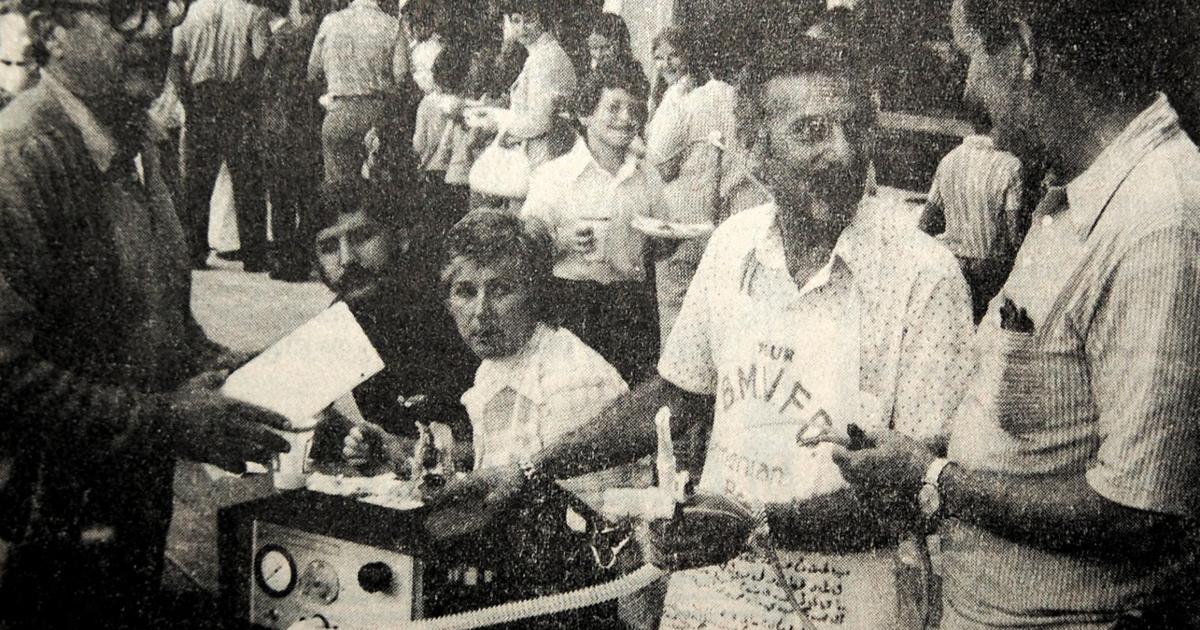 This Week in the Archives: County Safety File, Canoe Rescue, New Route | Community
Editor's Note: This article features news and photos from previous editions of the Watauga Democrat.
March 11, 1976
"What kind of safety record have the people of Watauga County compiled themselves? How does it compare with the record of other communities," a March 11, 1976, article asked. Democrat Watauga.
"Based on the last three annual reports released by the United States Public Health Service, the local accident rate is somewhat higher than most areas.
"Local residents have an average of 18 fatal accidents a year, according to official figures, with motor vehicles being the cause of 10 of them.
"All types of accidents were included in the reports, whether they occurred at home, at work or while driving, swimming, boating or hunting. Excluded are local accidents that only affected non-residents.
"In general, according to the National Safety Council, for every fatal accident, there are almost 100 others that do not result in death but require medical attention and restricted activity," according to the article.
"From a population perspective, Watauga County's toll was above average over the three-year period. This equates to a rate of 73 fatal accidents per 100,000 population per year.
"For comparison, the rate in the rest of the United States was 55 per 100,000. It averaged 70 in the state of North Carolina.
"(However) … the total number of accidental deaths has fallen by almost 11,000 – the final total being around 105,000. According to council figures, in addition to the 105,000 killed in accidents, a further 11 million suffered catastrophic injuries.The economic loss this represents is estimated at $43.3 million and includes lost wages of $13.2 billion, $7.4 billion in insurance and $6.5 billion. in property damage, among others.
"Watauga County's share of this bill, assuming the average cost per accident applies locally, is nearly $4,698,000," the article said.
Several Appalachian State University students were among eight students who were rescued after their canoes flooded and fell into a freezing river in Grayson County, Va., The Associated Press reported in a article published on March 9, 1983, Democrat Watauga.
The area where the accident occurred was considered a difficult stretch of rapids, even for experienced canoeists. The latest dispatch from the scene came at 4.08am, when two of the men were rescued by boat from an island in the river.
"Six of the students struggled to get back to shore on Monday afternoon after their four canoes were swamped by four-foot waves at Molly Shoals," the article said. "None of the men appeared (to be) seriously injured, although they suffered bruises after being banged against rocks in the river."
Another story in the issue began with an ominous conclusion: "It's going to be very expensive to erase 'Devil', 'Satan' and 'Satan kills' written on the walls and to fix other damage caused by vandals in Hardin Park Elementary School."
Vandalism and other damage were reported after a break-in, discovered by a Boone police officer on a Saturday afternoon.
"The main damage was water-soluble paint thrown on the carpet in four classrooms, which is currently being cleaned," said James Daye, then director of Hardin Park. "The faces of two clocks were smashed, many American flags were partially burned, papers and books covered the floor of virtually every classroom, papers were set on fire in several classrooms."
March 12 and 14, 2007
A new route from Bodenheimer Drive to the Broyhill Inn and Conference Center at NC 105 via Homespun Hills Drive has been proposed to ease congestion, according to a Democrat Watauga article titled "Connector Would Lead to New Campus Exit Road".
"We view the connector as an important way for visitors, students, faculty and community members to enter and exit the area around the Broyhill Inn," said the Appalachian State Chief of Staff. University, Loren Baumhover, in the article. "As people are aware there is only one road in and out of Broyhill and as we have increasing attendance at sports games the need to direct traffic away from the core of the campus and King Street gets even bigger."
A feasibility study was done on the road and of the 26 acres needed for the road, ASU already owned the majority of the space needed.
The project was requested by the City of Boone, according to ASU Design and Construction Manager Clyde Robbins.
The project never got off the ground and to date a link road between the former Broyhill Inn site and NC 105 has not been built.