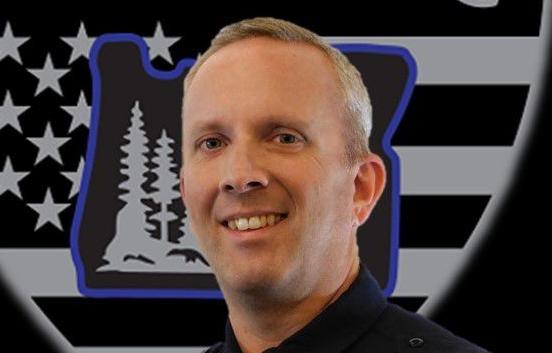 Three Roseburg Police Officers Honored for Their Role in September 29 Water Rescue | Public security
Roseburg Police Department Sgt. Jeff Eichenbusch and Officers Dawson Batsch and Brandon Halter received the honors Tuesday for their efforts in an early morning water rescue that rescued a woman on September 29.
In an informal ceremony Tuesday morning, Roseburg Fire Chief Monte Bryan presented the three officers with challenge coins from the Roseburg Fire Department, and Eichenbusch, who oversees Batsch and Halter, awarded the officers with official commendations after the two jumped into the river to help save Brittany. Berger, 24, from Rosebourg.
"The firefighters would like to recognize Sergeant Eichenbusch, Batsch and Halter for their rescue actions," Bryan said in a press release from the Roseburg Police Department. "We are fortunate to be associated with such dedicated law enforcement professionals."
All three were on patrol that morning when Eichenbusch pulled his patrol vehicle down the cycle path under the Stewart Parkway bridge along the north bank of the South Umpqua River at 4 a.m. that morning after receiving a call indicating that there was a woman in distress in the river and was having a hard time coming back for sure.
Eichenbusch walked down the dark embankment but couldn't see anyone, but said he could hear someone panting and coughing somewhere in the river.
"I could hear what I assumed to be (Shepherd)," Eichenbusch said in the statement. "It looked like someone struggling in the water."
Once Eichenbusch made his way to the riverside, he heard James Smith, the person who called 911, say that Shepherd had approached the bridge. As Eichenbusch walked down the riverside, Halter arrived on the other side of the river. Their two flashlights found Shepherd struggling in the current.
"All we can see is just his face," Eichenbusch said. "You can't even see her whole head. She's just looking at the stars.
"She was just trying to keep her face above the water," he said.
As Halter was on his way to the Eichenbusch location, Batsch also arrived on the scene to help. Once the group got close to Shepherd, Batsch, who was on the Roseburg High School swim team in the early 2010s, and Halter ditched their gear and entered the water to try and catch up. Shepherd.
"It was crisp. This water was not hot," Batsch said. "It was not extremely cold. It wasn't like winter.
As Batsch swam 25 to 30 yards, he was able to keep his eyes on Shepherd, seeing her sink "several times".
Eventually, Batsch caught up with Shepherd and the former YMCA lifeguard grabbed her, supporting her on her side to keep her head and shoulders above the water. Halter quickly caught up with a lifeline.
"When I got there, I don't know if she even realized I was there," Batsch said. "She was completely gassed. She just had no fight with it. She just went limp when I grabbed her."
As the two officers brought Shepherd safely to shore, four firefighters pushed Shepherd towards a patrol vehicle and turned on the heat to help warm him up and protect his privacy until medical staff could. arrive to transport her to CHI Mercy Medical Center.
Eichenbusch said he couldn't have been prouder of his two officers.
"It was almost like a 'proud daddy' moment to know this was my team," said Sgt. "I have no doubt that any of our officers would do this.
"This is what, in my opinion, sets us apart from other professions: How many other professions are going to risk their lives at any given moment to save someone they don't even know? That's what gives us a sense of pride. "