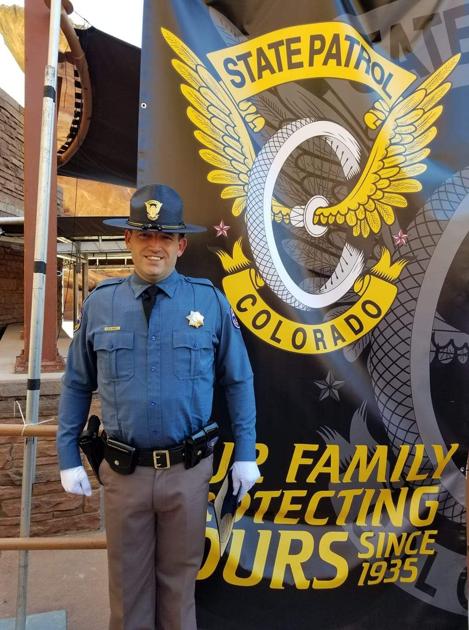 Veteran Uses Workforce Center to Launch New Career | Western Colorado
Rick Root has had a lot of careers, has made several stops across the world and has now found his final career.
"I hope I like it and it looks like something I'm going to stick with," Root said.
His new career, starting in 2020, is with the Colorado State Patrol. He is stationed in the Glenwood Springs area, but hopes to be transferred to Fruita's office soon and back to his hometown.
Root, 42, laughs, admitting that being a state trooper has never been on his radar.
"It was never something I would have never considered when I was younger," he said.
It was a long road to this quarry with more turns than a single track trail, and a few potholes and detours along the way.
It started with six years in the Air Force for the Central High School graduate. There were all kinds of training in electronics, satellites and other technological fields. His military time took him to several places, including South Korea.
After returning to Grand Junction in 2004, he used the GI Bill to go to college, and he graduated from Colorado Mesa University with a degree in geology.
He had a variety of careers after leaving the military.
"I tried a bit of everything including real estate, I was just a little bored," he said with a laugh.
He eventually ended up in the energy industry, which ultimately led him to decide to find his new job.
"I worked intermittently in the oil fields for nine years," he said. "In 2015, I was fired for the last time.
It was his time with Mesa County Search and Rescue that steered him towards a possible career in law enforcement.
"I've been involved in some rescues and recoveries, and it pushed me in that direction," he said. "I started doing things to potentially help me get in with one of the law enforcement agencies."
The first step was to obtain an EMS (Emergency Medical Services) certificate.
This led to the second step – contacting the Mesa County workforce for assistance.
"Going out there and doing the veterans work program was great and pretty easy," he said. "I told them my goals and they said 'OK let's start this.' "
Tony Lee, a U.S. Army Veteran, is the Veteran Services Officer for the VetWorks program at the Mesa County Workforce Center. It's his job to help veterans begin to achieve those goals.
"I hope we have measures in place so that it doesn't sound like such a daunting process," he said. "We want to be here so they have someone with them to help them get through these hoops."
The program provides funds to veterans to help them in a variety of ways: from training to certification to equipment.
Lee gave several examples. A veteran needed training to get his commercial driver's license. Another, like Root, used the EMS certification process to find employment; some needed money to pay for work boots and uniforms.
He said it can be almost anything if they qualify.
"There was this guy we bought a new bike from so he could get to work because the bus lines weren't close enough," Lee said.
The goal is to provide that financial help to get them on the right track.
"Anything that gives them a boost to help them lead a different career, so that they can be independent, have a paid job, so that they can find long-term gainful employment," he said. he declares.
Funding for the program comes from grants created after a Colorado bill was passed in 2016.
For Root, once he decided law enforcement was the goal, he used the EMS certification, which was paid for by the VetWorks program, as a starting point.
After applying, along with 2,500 other Colorado State Patrol prospects, Root was accepted to Golden Academy.
Before even applying, Root was faced with a dilemma if he wanted to become a soldier.
He had to have a tattoo removed on his hand as visible tattoos are not allowed.
"It was a starfish," he said of his tattoo. "I love marine life and snorkeling, and I have an aquarium at home."
But the starfish had to go, and it wasn't fun.
"The withdrawal was quite painful; it was a lot shorter than getting a tattoo, but it was really excruciating, "he said.
He laughed, "I think I'm done getting a tattoo now."
Once he got to the academy, thanks to COVID, it took nine months instead of the normal six months to complete.
Root said a huge thank you must go to his wife Heather.
"She had mixed emotions at first, but she's a great support, she really held out for a while," he said.
The couple have three children aged 22, 16 and 13.
Since 2019, 27 veterans have taken advantage of the VetWorks program.
Root thanks the VetWorks program for helping him become a state soldier.
"They were instrumental in my participation in the Colorado State Patrol," he said. "It gave me the financial support I needed at the time. "
For information: mcwfc.us or contact Tony Lee at 970-248-2733.